Bayard Middle School and Gallaher Elementary School
WILMINGTON – Today, Lieutenant Governor Matt Denn announced the two schools honored with the 3rd annual "Lt. Governor's Excellence in Parental Involvement Award" during a press conference in New Castle County.
The 2012 winners of the award are Bayard Middle School and Gallaher Elementary School, both of Christina School District.  The two winners were picked by a committee of parents, teachers, administrators, and representatives from the business community.
"I created the award in 2010 with the State Chamber of Commerce as a way to enhance parental engagement in our schools," said Lt. Governor Denn.  "Each year, through the applications we receive, it is clear that schools are really working towards having parents more involved and I am happy about that.  As parents, we all need to get involved in our kids schools and help the teachers who are helping our children; that teamwork is going to help all of our children excel."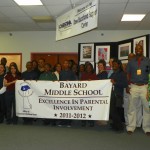 Bayard Middle School is doing a variety of complementary things for parental involvement. Bayard has a Family and Community Liaison Team devoted to increasing Family and Community Engagement.  By bringing in the community, as well as the parents, the involvement outside of the school building has increased.  Bayard formed a Parent Cyber Café, which is an online group of parents that meet monthly online to discuss important information about the school and their students.  They are also working to create a Spanish version of the Cyber Café.  Both of these "Café's" allow parents to be an integral part of the school in a way they might otherwise not have had.
Gallaher Elementary School uses their "Parents as Partners" and it shows.  Parents serve on all school committees, including Code of Conduct Review Committee, PBS and Calendar Review Committees.  In addition, the principal hosts a coffee with all parents on a monthly basis, and teachers exchange weekly progress reports with them.  Every teacher in the school sends out no less than two positive postcards a month to the parents of each student. Gallaher is also a Blue Ribbon winner for their significant narrowing of the achievement gap.
The schools will again be recognized at the Delaware State Chamber of Commerce's Superstars in Education dinner on May 7, 2012.