Photos are available for media use on Flickr.
HARRINGTON – Poultry farmers Marilyn and Lee Ellers, owners of Sparrow's Song Farm near Houston, have been recognized for their efforts to improve water quality and reduce nutrient runoff with the 2012 Environmental Stewardship Award.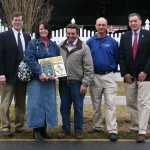 "Marilyn and Lee Ellers represent the best traditions of agricultural innovation, taking action to protect and preserve our environment," Secretary of Agriculture Ed Kee said. "The work that they and other farmers are doing is vital to helping improve our water quality, and the early signs we are seeing indicate that it is paying off."
The Ellerses purchased the 250-acre farm from Marilyn's family in 2005 to expand their poultry operations, and the property is enrolled in Delaware's Farmland Preservation Program. They have the capacity for about 125,000 chickens, growing for Amick Farms.
As part of their efforts to reduce nutrient runoff, the couple installed a concrete pad to cover the area between their poultry house and manure shed, to avoid spillage; maintain buffer zones around ditches; and have a housekeeping plan to clean heavy-use concrete pads. They are planting a tree windbreak and creating a habitat for whitetail deer. They are certified as private nutrient handlers by the Delaware Nutrient Management Program, have a five-year comprehensive nutrient management plan in place, and hold a Concentrated Animal Feeding Operation permit.
The Ellerses are also members of the Delaware Farm Bureau and Delmarva Poultry Industry, Inc., and have been honored by the Kent Conservation District and DPI.
Runners-up included Two Paws Farm near Bridgeville, owned by Kathy Willms, who grows poultry for Perdue Farms; the Herman Smith Jr. Farm, Clayton, which grows poultry for Allen-Harim Foods; and Hidden Acres Farm near Millsboro, owned by Paul T. Baker, who grows poultry for Mountaire Farms.
The awards were presented Thursday during Delaware Ag Week, held at the Delaware State Fairgrounds in Harrington.
The Ellenses will receive $1,000, a plaque and a sign for their farm. The runners-up will receive $500, plaques and signs.
Past recipients of the Environmental Stewardship Award include Douglas and Deborah Vanderwende, Locust Grove Farm, Greenwood (2011); Frank Robinson and family, Dead Broke Farm, Harrington (2010); Mary Bryan, Laurel (2009); Joe Bauer, Harrington (2008); Scott Peterman, Milford (2007); and Guy and Nancy Phillips, Georgetown (2006).
The awards are supported by Allen-Harim Foods, Amick Farms, Mountaire Farms and Perdue Farms.
Photos are available for media use on Flickr.
# # #
Contact:
Dan Shortridge
Chief of Community Relations
Delaware Department of Agriculture
302-698-4520