Photos available on Flickr, video available on YouTube
Measure brings predictability to homeowners' lives
DOVER – After years of uncertainty surrounding their annual rent increases, Gov. Jack Markell Sunday signed a measure limiting the majority of increases for manufactured housing community residents.
"The work done on this issue by lawmakers and advocates to come together and resolve a challenging issue reflects a theme of the legislative session that will conclude tonight," Markell said during a Sunday afternoon bill signing ceremony. "I commend the sponsors of this legislation and all of the lawmakers involved for their hard work on a carefully crafted compromise that resulted in broad support, striking a balance between the needs of homeowners and community owners."
Sen. Bruce Ennis, D-Smyrna, has led the fight for the law is a balanced compromise and said Markell's signing represents a great day for homeowners.
"It has been a long struggle and I think this is great because it just creates some predictability for people in manufactured homes in regard to rent increases and I think it's important that we were able to give some protections and predictability," Ennis said. "It's very important that we protect the property rights and the investment of the park owners while, at the same time, we're creating predictable land rents for the tenants."
Under the new law, community owners could automatically raise rents by the three-year average of the Philadelphia regional consumer price index. If circumstances, such as major capital improvements to a community, caused landowners to seek a higher rent hike, they would have to make their case before the state's Manufactured Housing Relocation Authority.  The law also provides for arbitration and legal review – if an increase is disputed by either landowners or tenants. It also provides penalties for community owners who continue to raise rents beyond the ceiling.
Unlike traditional residential neighborhoods, where homeowners own both the home and the ground it sits on, homeowners in manufactured housing communities own their homes but rent the land. Unlike stereotypical mobile homes, once a modern day manufactured home is in place, it can be as difficult as a site-built home to move.
Officials say the homes make up about 11 percent of Delaware's overall housing stock and, in some areas, they represent the best affordable housing choice for many people.
"It's a unique arrangement," said Sen. Brian Bushweller, D-Dover, who joined forces with Ennis on the bill.  "I think this is a great day for housing in Delaware because this is a law that recognizes that and takes great pains to ensure basic fairness for both sides. It gives more stability and predictability in budgeting, but it gives landowners a chance to increase rents and a mechanism for bigger increases if they are justifiable."
Leaders of the Delaware Manufactured Homeowner Association and Land Lease Homeowners Association have been a constant presence at Legislative Hall in support the bill and earlier efforts. State Rep. Paul Baumbach said their willingness to work the issue out was important.
Congratulations to homeowners, DMHOA and LLHC for working together with each other and  legislators and landlords to fix this problem that has been plaguing tens of thousands of Delawareans for many years,"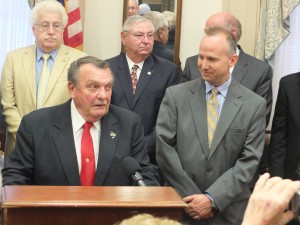 said Baumbach, D-Newark, the bill's chief House sponsor.
Ed Speraw, president of the manufactured homeowners association, said the signing was a great day for homeowners.
"By doing this, we've helped thousands and thousands of manufactured homeowners, and these people needed this bill – badly," he said. "This law will help thousands of people who might have been forced from their homes through dramatic rent increases keep their homes."
###