Georgetown –  Attorney General Beau Biden today announced that his office has filed an emergency motion with the Delaware Board of Funeral Services to suspend the license of a woman who was recently arrested and charged with posing as the niece of a deceased client and withdrawing thousands from the estate.
Deborah E. Harris-Nock, of Greenwood, is a licensed Delaware funeral director who operates Deborah Harris-Nock Funeral Services, a/k/a Deborah E. Harris Funeral Services, in Bridgeville.  On October 11, 2013 Harris-Nock was arrested and charged with Perjury, Criminal Impersonation, and Theft after a joint Georgetown Police and Seaford Police investigation revealed that she had identified herself to the Register of Wills as the niece of a deceased individual whose family had contracted with her to conduct funeral services.  Harris-Nock is alleged to have completed the paperwork necessary to fraudulently name herself executrix of the estate, and subsequently used those documents to withdraw more than $9,000 from the estate of the deceased.
On October 21, 2013 the Attorney General's office secured a criminal indictment from the Sussex County Grand Jury charging Harris-Nock with the crimes.
In last week's filing before the Board of Funeral Services, Biden's office is seeking the immediate suspension of Harris-Nock's license so that she cannot work as a funeral director in Delaware pending a final hearing before the Board.
The Attorney General's Complaint is attached.  A booking image from Harris-Nock's October criminal arrest is copied below.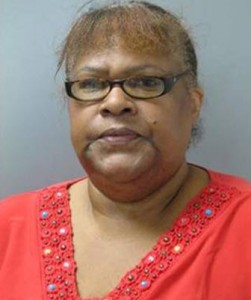 # # #