Urban Forestry Grants up to $5,000 Available
Delaware's urban forestry grant program has funded 588 projects for $1.86 million.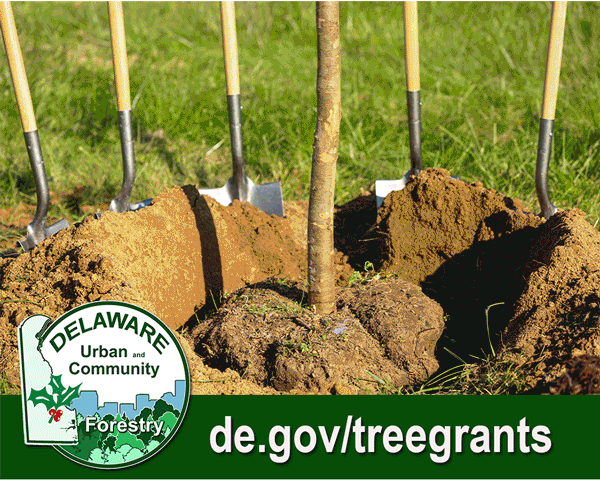 Contact: John Petersen, 302-233-8180 (cell) or john.petersen@delaware.gov 
DOVER, Del. (January 10, 2022) —  Delaware's Urban and Community Forestry Program is now accepting applications for up to $5,000 in matching grants for tree planting and management projects on public land and community open space. Urban and community grants are open to all Delaware municipalities, homeowner associations, and certified nonprofits, including schools and churches. There are also grant opportunities specifically for areas within the Chesapeake Bay Watershed. To find out if your property is eligible, click the "Find Your Watershed Address Tool" below. Complete guidelines on all grant programs are at de.gov/treegrants. The deadline is March 4, 2022 and all submissions must be via the online links.
"Trees have the power to transform communities. The grant program's goal is to increase tree canopy throughout Delaware, along with the many benefits it provides. Funding for this year is very good and we hope to receive requests from interested municipalities, homeowner groups, and nonprofit organizations across the First State." said Kesha Braunskill, Urban and Community Forestry Program Coordinator. "Quality projects that meet program guidelines have a good chance of getting approved in this grant cycle."
The urban forestry grant program helps communities harness the numerous natural benefits of trees: cleaner air and water, energy savings, increased property values and civic pride, as well as reduced storm water runoff and flooding. Funding is provided by the U.S. Forest Service and state funds as well as partnerships with the DNREC Division of Watershed Stewardship Nonpoint Source Program and the DNREC Division of Climate, Coastal and Energy. This year, additional support is provided by DNREC and Governor Carney's "Tree for Every Delawarean Initiative," which aims to plant about one million trees over the next ten years to help address goals in Delaware's Climate Action Plan. 
Photos at the Delaware Forest Service Flickr page: 2021 Urban and Community Grants
Videos of 2021 Tree Projects:
---
In 2021, the UCF program awarded $135,193 for 36 community tree projects.
---

Urban and Community Grants
 Requests must be a minimum of $500 to a maximum of $5,000 in only one of two project categories: tree planting or tree management (i.e., professional tree inventory, hazardous tree removal, or pruning).  Grants require a 50-50 match in either cash (non-federal funds) or in-kind services, including volunteer or staff time, equipment rental, or supplies. 
Applications are judged by a committee of the Delaware Community Forestry Council. Eligible projects must be performed on public lands within the community. Priority will be given to first-time applicants, Tree City USA and Tree Friendly Communities, and projects with a focus on promoting diversity, equity, and inclusion.
Applicants are required to set up a site visit before submitting their application with the Urban and Community Forestry Program, who can review their project and answer any questions.
Site visits must be scheduled a minimum of a week in advance.
No site visits will be done after February 18, 2022.
Appointments will be made on a first-come, first-serve basis.
Final day to make an appointment will be February 11, 2022.
Deadline to submit application online is March 4, 2022 by 4:30 p.m.
Grants at a Glance
Matching grants range from $500 up to $5,000
Requires a 50-50 match in cash (non-federal funds) or in-kind services
One project in one category: tree planting or tree management (hazard removal, inventory, or pruning)
Project must be on public land or open space
EIN Number required – no payment to individuals
Site visit by urban forestry staff must take place before project submission
Site visits requested at least a week ahead by emailing the UCF Program
Deadline to apply via the online application form is March 4, 2022 at 4:30 p.m.
Guidelines and Forms
Chesapeake Bay Tree Grants
---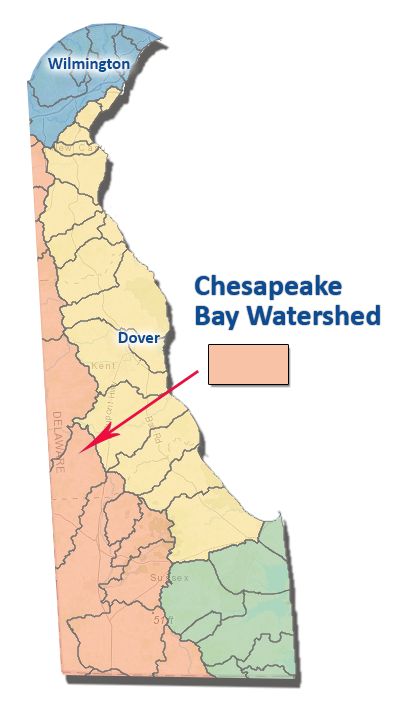 The Delaware Forest Service Urban and Community Forestry Program also offers tree planting grants specifically to applicants in the Chesapeake Bay Watershed. The Chesapeake Bay Watershed is the nation's largest estuary and a priority for conservation and restoration efforts. The Chesapeake Bay Basin in Delaware includes 15 sub-watersheds located along the western part of the state. You can find out if your property is located in the Chesapeake Bay Watershed by using the Find Your Watershed Address tool below and entering your address in the search box to the upper right. Click in the map area outside of the box and it will list the watershed and basin in which the the property is located. The orange and peach color indicates the Chesapeake Bay Watershed.
Requirements for Chesapeake Tree Grants
Must be a municipality or certified 501(c)(3) organization based in the State of Delaware. Common types include nonprofit religious, educational, charitable, scientific, or literary organizations.
Must own land located in the Chesapeake Bay Watershed with a parcel registered in your organization's name that appears on your county's tax parcel list (must provide parcel number).
Must provide a 50-50 cost-share match in either cash or in-kind services. Sufficient volunteer hours for planning, organizing, and carrying out the project can meet this requirement without a need for cash.
Be sure to check if your location is in the Chesapeake Bay Watershed by using the "Find Your Watershed Address" tool.
Benefits of Chesapeake Planting Grants
Grants can be a no-cost or low-cost way to beautify and enhance your community or your organization's campus and grounds
Tree planting projects can bring your community or organization together to benefit the environment
Technical Assistance
Delaware Forest Service staff can offer assistance at every stage of the tree-planting project:
Meet with applicants to discuss their project
Identify a suitable site for the tree planting
Select the best species for the particular location
Help calculate volunteer hours and services for match to reduce project costs
Schedule a planting day
How to Apply
If you think your town, church, or organization would benefit from a Chesapeake Bay Tree Planting Grant and you can meet the grant requirements for a 50-50 cost match (can be met by volunteer hours at no cost to your community or organization), then you are invited to contact the Delaware Forest Service Urban and Community Forestry Program. You can apply by clicking on the application link below:
If you have questions, comments, or need further assistance, please contact the Urban and Community Program  Send E-mail.