New law removes notary requirement, expanding voting access for younger Delawareans attending school out of state
DOVER, Del. – Governor John Carney on Friday signed into law House Bill 47, bipartisan legislation that removes the notary requirement for qualified Delaware voters requesting absentee ballots. The legislation will eliminate a barrier for voters seeking to cast votes in Delaware elections – especially young Delaware voters attending school out of state.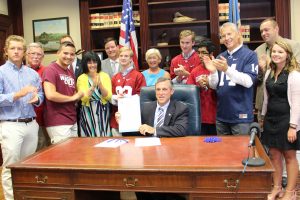 Representative Lyndon Yearick and Senator Brian Bushweller sponsored the legislation, along with Senator Brian Pettyjohn and Representative Kim Williams. Governor Carney signed the legislation in Dover on Friday, surrounded by its sponsors and college students from Delaware.
"We should always look for ways to make it easier for qualified Delaware voters to participate in the democratic process – not more difficult," said Governor Carney. "This legislation does just that. It takes the common sense step of removing a barrier that had a specific negative impact on young Delawareans attending college out of state. Thank you to members of the General Assembly of both parties for their leadership on this issue."
"Before this bill was signed, Delaware was the only state in the nation that required a notary to authorize a voter's affidavit requesting an absentee ballot," said Representative Yearick, R-Dover South, the prime sponsor of the measure. "It hindered anyone seeking to cast an absentee ballot, but it was especially hard on students attending out-of-state colleges.  This new law streamlines the process, removes a needless expense, and makes it easier for young adults to become active participants in the Democratic process."
Senator Bushweller shepherded the bill through the Senate and said it represents an important change in how Delaware conducts elections. "I want to make it easier for people who are properly registered to vote to take part in our elections," said Senator Bushweller, D-Dover.  "Requiring that a notary sign off on a registered voter's right to participate was a real roadblock for some voters and I'm glad we've removed it."
###
For details on all the legislation Governor Carney has signed into law, visit the Legislative Advisories page on the Governor's website.