Delaware Forest Service offers free wildfire training
DOVER, Del. — The Delaware Forest Service is looking for motivated recruits to enroll in wildfire training classes starting in February at the Delaware Department of Agriculture, 2320 S. DuPont Highway, Camden, DE. There is no cost for training and no previous experience needed. Classes will be held over two weekends: February 1 and 2, and February 15 and 16, 2020. Candidates must be over 18, physically fit, and able to travel for at least two weeks, usually in the summer. Attendance at all classes is required to achieve "red card" certification from the National Wildfire Coordinating Group (NWCG).
Students can register by filling out the online registration form by January 31, 2020. Complete details are at de.gov/wildfire.
Students who complete the core set of courses (listed below) are eligible to attend "Fire Camp," an intensive, hands-on, one-day seminar held in the spring of 2020. Students must also complete a "work capacity" or "pack test" – carrying a 45-pound pack over a three-mile course in 45 minutes or less – to receive their NWCG "red card" and participate on out-of-state fire assignments.
While all firefighters volunteer for out-of-state assignments, all positions are fully paid: A typical 16-day tour of duty will usually average between 220 and 250 working hours or about $4500 for an entry-level FFT2 position (firefighter Type 2).
Core Courses
S-190: Introduction to Wildland Fire Behavior  (Saturday, February 1)
S-130: Firefighter Training (Sunday, February 2) plus (Saturday, February 15, and Sunday, February 16)
Prerequisites *
* Students must pass two prerequisite courses before classes and bring course completion certification certificates with them on the first day. These are online (below) at the FEMA website.
ICS-100 – Introduction to the Incident Command System
IS-700 – An Introduction to the National Incident Management System
For more information, call 302-698-4548      Email: Kyle Hoyd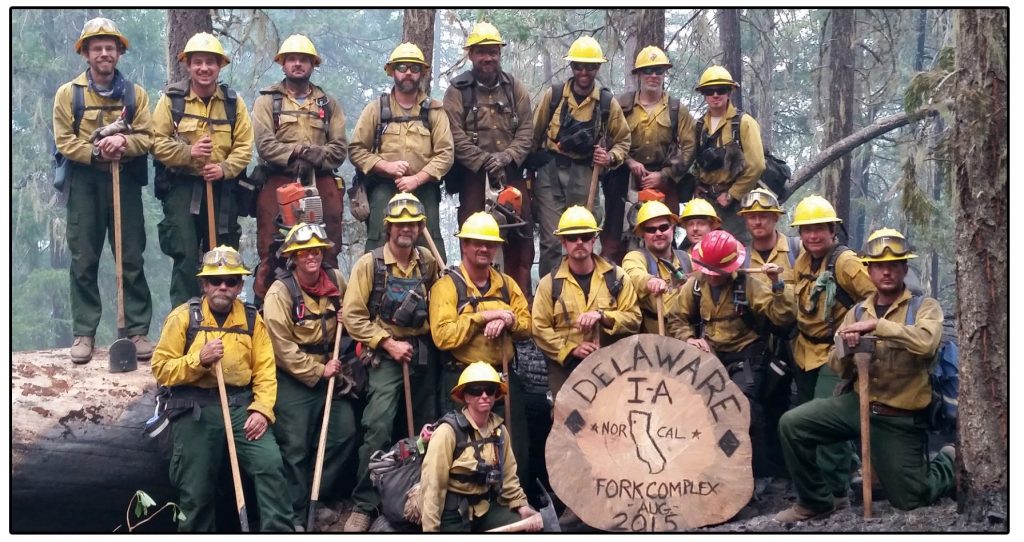 Every year, millions of acres of forests across the United States are ravaged by wildfire. But thanks to a training program by the Delaware Forest Service, citizens from across the First State can qualify to serve on national fire crews. Since 1996, the Delaware Forest Service has trained more than 600 volunteer firefighters, and now every fire season deploys 20-person crews for out-of-state wildfire assignments.
Delaware's program is growing and in need of additional firefighters who are interested in assisting the national effort to control and contain devastating wildfires. Delaware used to send only one crew a year, but now can send multiple crews. In 2018, Delaware sent crews to Colorado and Idaho, as well as engine crews to California.
Do you have what it takes to join the Wildfire Crew?
Download the Wildland Fire Program Brochure
Frequently Asked Questions: